1. Design with Pool Deck Gates & Fence for a Sense of Privacy
Nowadays, people love the idea of personal space that encourages them to let out their vulnerable side. You can adapt that idea for designing and resurfacing the entire pool area.
Adding gates around the pool decks and fence or wall enclosure will give a sense of privacy that hints that the pool place is where the power loves to have privacy for relaxing.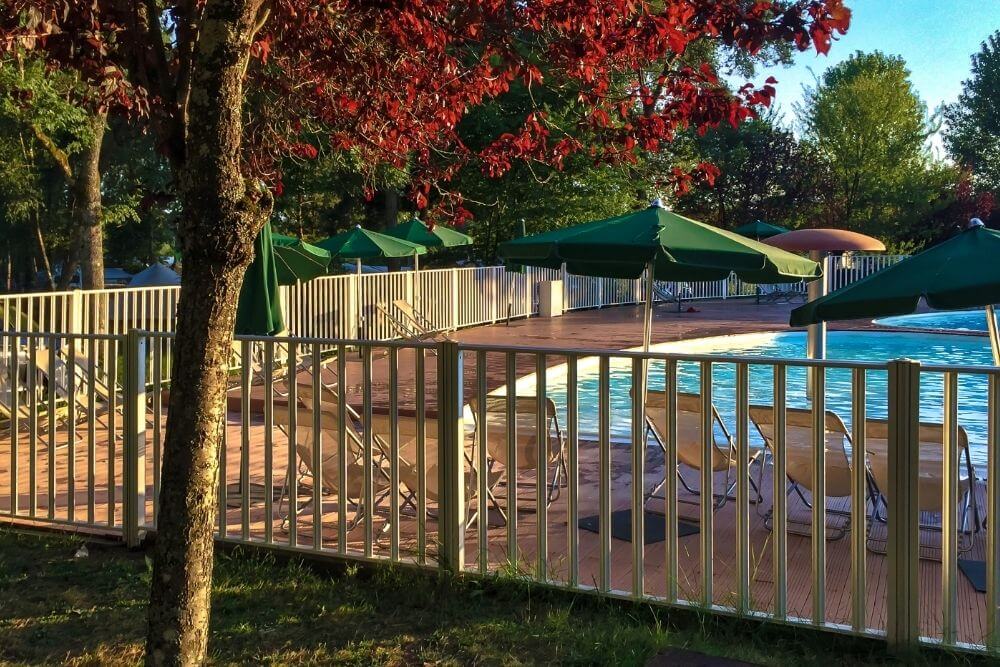 That makes sense since swimming is one form of therapy, and submerging in the water makes someone feel relaxed, peaceful, and less anxious. And when times like these, when you want solitude to refill and re-energize your soul, you need personal space and privacy away from people's overwhelming fun or company.
2. Create a Pool Deck Patio
In contrast to number one, another way to design your pool area is to build a patio-like-decks, like this one you can find on Pinterest.
Some properties uniquely set up their pool area mingling with the patio. The entrance and the swimming area are located in one, and thus that creates a patio deck.
It is a perfect idea, especially if you plan to revamp the space in your properties. Also, it is an excellent approach if you want to manifest innovative functional areas as 2022's design principle.
Combining the patio and decks around the swimming spot is genius! It makes the guest feel welcomed right away when they enter the balcony and see your pool beside it. Do not be surprised if they express to you that they feel like staying at your home for some time.
3. Lighting as Functional Designs
Here are ways to use lights as you design them for the decks. 
Install led lights along with the steps of the swimming pool

Build a fire pit to include with your pool-deck-patio

Light up the pool's edge with led lights attached on safety enclosures

Install led lights on the concrete pathways going to your backyard pool
Suppose you are still scrolling down your Pinterest or Instagram to find a pergola. It is an Italian term that refers to a shading structure to open spaces like the garden or patio. You can have those on your swimming spots too.
You could enjoy chilling by the pool shade when designing the decks with a pergola. Pergolas are distinct from having clumped roofing where wooden trellis is attached for vines, and the part stem could hang on to.
If you are interested in having these designs in your own pool decks, you just need to contact your local pool decking contractor. They would give you a quotation at the same time tips on how to better improve your pool deck.