Are you running out of ideas on how to design the patio areas? A beautiful pair instantly makes the entire property attractive and comfortable to live at. One way to flaunt your homes and commercial space is to build a concrete patio Hollywood. This year's design themes and perspectives lean towards innovation, personal style, and functionality.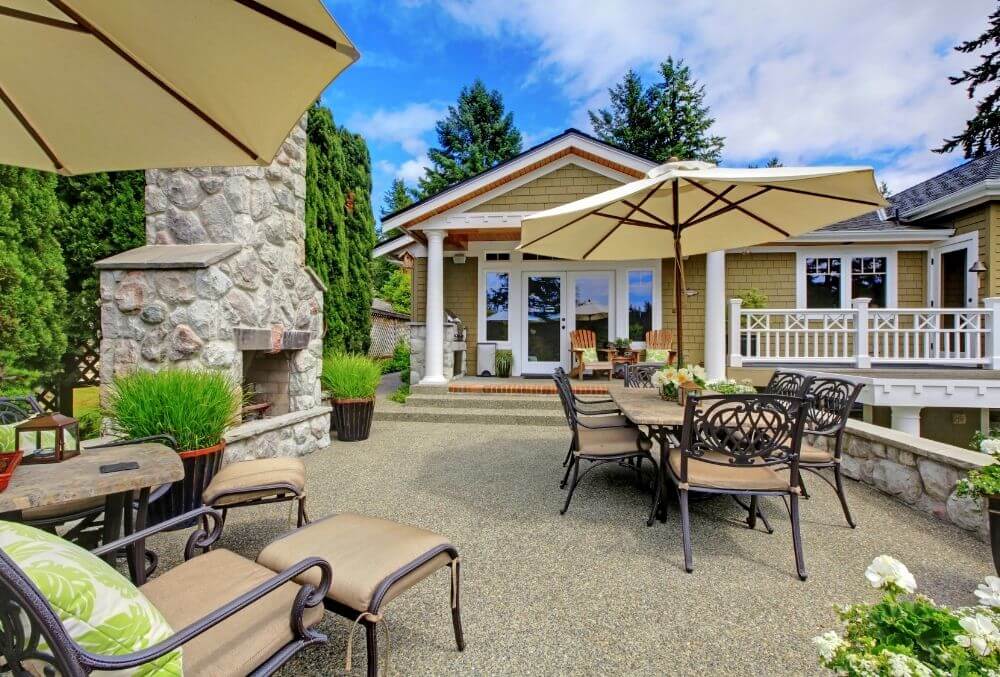 Find out how you can translate those into your properties' facade. Here are concrete patio design ideas apt for 2022.
Take a quick look on what we got for you today:
Concrete block designs
Patio with fire pit
Greenhouse patio
Smooth finish
Stamped concrete
2022 Concrete Patio Floor Designs
Your place will be an instant head-turner with a beautifully designed front yard or courtyard. The following will reveal to you how to do it!
Making the natural look around the patio is a practical and functional choice. Concrete designs make a space look modern, minimalist yet warm and traditional, and it ironically provides a homey vibe at the same time.
You can design concrete blocks around the patios by building stairs and extensions. Concrete stairs are a perfect accent that adds function to your concrete patio. It helps make the patio floors look elevated.
This design adds a perspective and dimension to the patio area to make the space look brighter and wider by using a vertical layout with stairs. At the same time, you can use the edge of the stairs to put up flower pots or set up lighting with an enclosure that leads to the steps.
Another way is to create bold shapes with stamped concrete overlays to decorate the floor's surface.
A concrete fire pit is becoming a staple design element among concrete patios. The structure is a perfect visual break from the spacious grey floor. At the same time, it provides a seamless transition to your front yard or backyard area.
Suppose you have a patio pool that combines the swimming area from the courtyard of your home. In that case, the firepit creates an effective divider that defines two different spaces in one continuum of floor area.
Going green has now become many homeowners' style. Homegrown plants and exotic ornamentals pop in and out of ones' home.
When you finally see no space for your plant collection indoors, why not transform your outdoors, like the courtyard garden, into a greenhouse patio.
It is not enough that you just put up a greenhouse but instead have a patio-styled greenhouse. Now you can hang with your plants and other floral collections and sit with them while breathing fresh air in their midst.
Set up hanging wicker chairs, a creative nook, or a mini zen spot in the greenhouse to enjoy your green babies growing alive and green.
Smooth Finish, Stamped, Stained
The first item discussed resurfacing the patio floor with stamped concrete to create block elements and bold designs. You may also opt to have a smooth finish on the patio floor instead of patterned ones.
You can achieve this in two ways.
First, you can have a stained concrete floor. Finish it with a texture of your choice, namely, matte of the high gloss finish.
You can choose this floor style if you want to reveal a more accented patio using outdoor furniture or fresh plants and garden theme patio. A grey, smooth, seamless floor would perfectly balance that design.
High-gloss finish works well for both stamped concrete and stained concrete. High-gloss floors may look shiny, but they are highly non-slip. Old countryside styled homes would make a good combination with this style.