Are you considering renovating your pool area? The scorching summer heat has arrived, and you should probably prepare your pools and pool deck to resurface around them!
Prepare your mid-year strategy with today's pool deck resurfacing advice and ideas. But why is it important to resurface your pool deck? Is it worthwhile to hire a local installer? Yes, without a doubt! Consider the last time you went to the beach. You don't swim all the time, and there are times when all you want to do is go along the coast and feel the soft, gentle ground beneath your feet. The decks around the pool are the same way.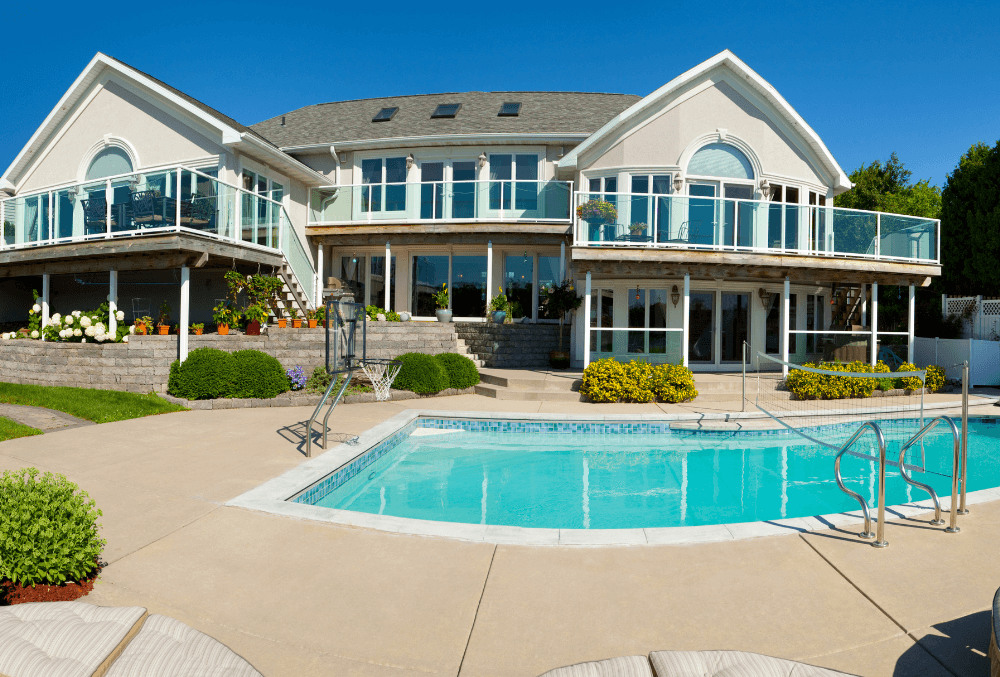 Relive your favorite swimming memories by checking out today's article. Here are the trendiest concrete pool deck coatings, finishes, and resurfacing options!
Resurfacing Pool Decks: Ideas
Pool decks can be remodeled in a variety of ways. Take a look at the following:


Resurface with materials for concrete pool decks
Resurface with vibrant pool deck paint.
Use pool deck paints to recolor.
Decks should be redesigned and remodeled with attractive concrete decks.
It is even better if the concrete pool deck does not heat up in the sun. If you reside in places like Florida, running away from the sun's rays will be impossible. As a result, the outdoor floors will likely warm up soon. The spray knockdown finish helps this, and this is a more efficient solution than the traditional Kool deck cooling surface.
The surface of the textured pool deck will not only repel heat and also aids in improving the surrounding deck's anti-skid characteristics. Swimming becomes enjoyable since safety comes first.
Pool Decks Decoration Ideas
Concrete decking designs alone provide numerous design alternatives for your pool decks. Other types of pool decking, made of various materials, are now available. Combine it with sleek and inventive elements, such as furniture and lighting.
Here are practical tips for doing them:
Create a peaceful lounge on the decks by using outdoor furniture.
When the sun begins to set, add lighting to create a scene and relax by the pool in the moonlight.
A concrete fire pit by the pool completes the outside setting.
For increased functionality, construct slides and extend decks around the concrete decking.
If the texture isn't quite right and you're looking for something with a little more oomph. Consider colored concrete.
Various processes are used to color concrete. Using dyes or stains to tint the pool surface is one technique, and the color is then sealed onto the surface with a concrete sealant.
Concrete coatings, such as epoxy can also be utilized to give the pool a variety of colors. On the other hand, you might use pool deck paint as an option. The secret to making these floors durable is to finish them with an acrylic-based concrete coating. The surface becomes more durable, and the cover is thus protected from water and heat damage.
Resurface your decks using concrete ideas if you want to combine durability and style. There are several options, including those generated with pool deck refinishing and textured concrete resurfacing. Adding texture to your pool decks does more than provide a form. But it also serves a purpose.
Next, find out more about different types of concrete decking.
Using semi-solid staining, you can protect and seal your pool decks.
For example, when you utilize colored concrete pool decks, the colors stay deep within the concrete's surface. As a result, the dyes seep into the concrete pores. You can quickly seal the concrete surface with this method.
Interior floors used to be more prone to staining. However, with the advancement of technology, staining may now be utilized outdoors. For instance, tinted concrete pool decks are ideal for regions with always water.
Pool Decks with Stamped Concrete
Stamped concrete can produce designs that seem like stone, slate, or wood. These designs also include a texture that boosts the decking's slip resistance. Stamping is a classic. Every generation of homeowners prefers this strategy, lowering their investment costs. Its purpose is to keep the concrete materials in place, and nothing is thrown away.
If the decks need to be updated, you can keep the existing concrete and resurface it with stamped concrete overlays. Your pool safety will be ensured when you use stamps to resurface the pool decks.