Residential Concrete Floors Miami, FL: Decorative Concrete Surfaces at its Best
People say there isn't a second chance to make a good first impression. But why aim for a good first impression when one could achieve a good lasting impression? This is possible with decorative concrete resurfacing. Whether it is for outdoor concrete surfaces or indoor flooring, there is an affordable way to make it visually appealing and functional.
Work with one of the best concrete contractors in Miami FL now, and transform those dull and boring concrete surfaces into an interesting, new one!
Advantages of Miami Residential Concrete Flooring
There are some people who indulge in wall decor, furniture, and other ornamental elements in their home, neglecting the floor under their feet. However, there are many reasons why decorative polished concrete floors should be considered in residential properties:
Aesthetics – With a range of looks to choose from, resurfaced floors are enough to enhance any room every time.
Value – Decorative floors increase the beauty and function of walking surfaces, thus, increasing the property resale value of a residential property.
Economical – It costs less upfront and requires minimal maintenance, making it an affordable, yet worthwhile investment.
Eco-friendly – Resurfacing existing concrete floors lessens carbon footprint and landfill waste.
Residential Concrete Surfaces Miami: Pool Deck, Patio, Driveway, Garage Floor & more!
Decorative concrete resurfacing can be done on both indoor and outdoor surfaces, such as
Concrete Patios – Maximize outdoor enjoyment by stamping concrete overlays on a concrete patio. Other options include acrylic cement coating and concrete staining.
Concrete Pool Decks – Pool decks need to be safe enough for use even when wet. Acrylic cement coating and stamped concrete can make it slip-resistant without compromising aesthetics. Acrylic cement coating also provides a cooler surface to walk on even under the sun.
Concrete Driveways – Nothing improves curb appeal more than a decorative concrete driveway. Choose from concrete stamping, stained, acrylic sprayed surfaces, and other concrete driveway designs Miami FL.
Garage Floors – A garage always calls for a durable flooring. Decorative polyurea polyaspartic and residential epoxy flooring not only provides a super tough surface but also makes the floor attractive and easy to clean.
Interior Floors – Why stick with plain concrete when colors and designs are available at an economical price? Concrete stains come in a wide selection of standard and custom colors for eye-catching beauty indoors. Others vie for a concete polishing miami to get a sleek and shiny concrete floor.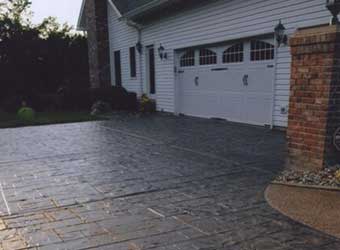 Can I DIY Decorative Concrete on my Floors? DIY vs. Professional Residential Resurfacing Miami
Do-it-yourself project saves you a huge amount of money right? Well, think again! Before buying the materials and watching YouTube videos, let us tell you why getting a professional concrete contractor is a worthy investment.
Get the job done fast. We are proud of our team who have the expertise, experience and right attitude to help you get your needs met. We have the necessary equipment and tools needed plus with the man power that comes with hiring a concrete company, you're sure to get results in time.
Avoid Redos. Whether you're planning on doing a DIY or hiring inexperienced contractors, there's a chance that the job won't be done right the first time. This leads to more expenses to pay to get it redone. This is why it's important that you hire the right people that will get your floors looking better and not worse.
Have more time on your hands. We know your time is gold! Instead of pouring so much time into learning and doing a resurfacing job, get experts to do it for you and relax on your free time, go out with your family, or even hang out with your friends! Don't worry, we've got this.
Ask for Expert Advice. Our team has been in this industry for years and we're familiar with all the common issues of a concrete floor. Some are worse than expected and even the simplest cracks could escalated to a bigger problem. Having an expert assess and give you an expert opinion could be the difference between a damaged floor and a long-lasting one.
Frequently Asked Questions
Concrete floors are often more cost-effective for those on a low budget, although this relies on the design and polish of the concrete floor. It saves you a lot of money in the long run because it requires little to no maintenance.
Concrete floors are a superb alternative to linoleum, carpet, wood, tile, stone or marble flooring. Concrete can be stained practically any color, resurfaced in a variety of textures and finishes, or polished for a smooth, shining aesthetic. Concrete flooring is also long-lasting, resilient, and simple to clean and maintain.
Deep grey hardwood floors are the most popular pick for homeowners this 2021. Luckily, concrete offers a cheaper way to achieve this look. simply get your concrete slabs stamped and stained by professional decorative concrete experts.
Looking for a concrete polishing or other concrete floor Miami experts for your projects? Get the best of residential decorative concrete resurfacing with one of the trusted and reliable concrete contractors. Contact us at (786) 899-2146 today.
Miami Decorative Concrete is the leader in decorative resurfacing and refinishing solutions in and around the Miami, FL area. We specialize in all types of residential concrete miami floors, both indoors and out. Our team of installers has been living in the Miami area for decades, giving them first-hand experience on what works with the climate and with your lifestyle. Work only with a reliable decorative concrete contractor, give us a call today. We would love to hear from you.