Decorative Concrete Resurfacing Company in Miami, FL: Stamped Overlays, Stained Concrete, Polishing, Epoxy Flooring
Practical, Low-cost Concrete Solutions Stamped Overlays, Staining, Epoxy Coatings and more!
Miami Concrete Artisans are licensed and experienced concrete contractors offering reliable decorative concrete floors solutions for both indoor and outdoor concrete surfaces. 
In warm sunny weather, breathtaking beaches, and fun festivals, no place can quite compare to Miami and so should your homes be. Nothing compares to concrete's cool benefits.
It absorb A LOT of heat and keep rooms cool, perfect on any hot day. It may not be the most attractive material BUT it can be, with the help of Miami Concrete Artisans.
Reliable & Experienced Concrete Resurfacing Contractors
Welcome to Concrete Floor Miami, your go-to destination for creative and functional concrete solutions. We specialize in providing exceptional services for a wide range of concrete needs, including sidewalk, wall, countertop, furniture, table, chair, stool, and sink. Our team of skilled professionals is committed to delivering top-quality concrete work that combines aesthetics with functionality.We want nothing more than to give you premium concrete floors solutions for your individual project.  We highly recommend that you get to know a contractor first before hiring them. Here is a little bit of information about our company:
In-home Concrete Floor Resurfacing, Repair & Refinishing Consultations – FREE of Charge
Few people are aware of the beautify of stamped overlays, stained concrete, epoxy floors, or concrete polishing Miami and other concrete flooring solutions.
That's why we don't mind helping customers decide on the details of their projects. Our staff is more than willing to provide an in-home consultation, free of charge.
This helps us understand the project you have in mind, the condition of the concrete surface that needs work, and the costs that may be involved. It is also a great opportunity for you to inquire, seek help about making decisions, and getting a free quote.
You'll be pleased with the updated look and repair the concrete floors or other surfaces on your commercial or residential property. But we want to make sure that you know and understand everything that will be involved. We're open to a discussion. All you have to do is give us a call or send us an email.
Our Best Miami Concrete Services
ONLY the Best Concrete Coatings & Overlays for your Floors
Concrete has become more than just a base material. It is affordable and very versatile. So versatile that it can be restored, refinished, or resurfaced.
What used to be plain, gray pool decks has been rebirthed with a new identity. Your concrete patios, concrete driveways, garage flooring, and interior floors, can be a luxurious, slip-resistant, and durable surface that everyone will love.
Different concrete surfaces need different applications. It has to be appropriate for the concrete's purpose and environment. It is a cost-effective material that is often used to replace more expensive materials such as brick, pebble or stone.
Experience the difference of prime decorative overlays and coatings under your feet.
Stained Concrete – Concrete stains can be used on both exterior and interior floors. It works on old concrete and it comes in acid and water-based forms. Acid stains create random effects due to their reactive properties while water-based stains apply and dry in solid, consistent colors.
Stamped Concrete Overlays – Ideal for use on a concrete patio or on driveways, stamped concrete overlays can be stamped with almost any pattern or design. The most popular patterns are brick, flagstone, tile, ashlar, and more.
Spray Knockdown Texture – While other coatings are often spread or brushed on concrete, spray knockdown texture is sprayed with a hopper gun and then troweled to create a textured finish. It is often used for updating or repairing residential & commercial pool decks. A concrete polishing Miami can also be availed to grind down any unleveled surface for a smoother and flatter surface.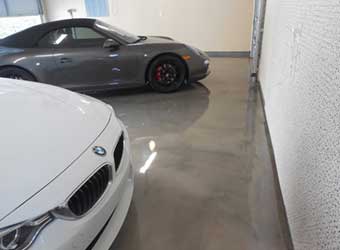 Epoxy Flooring – Epoxy flooring is a highly recommended choice for garage floors and basements. This mix of resin and hardener dries to really tough plastic. It is nonporous, impact, and stain-resistant (tire marks included), and lasts a long, long time. 
Concrete Polishing  – a Concrete Polishing Miami leaves your floors smooth and gleaming, so smooth your children will be gliding all around. Don't worry about slipping, we have concrete sealers to help with the traction. You'll be moonwalking all over the floor once we're done.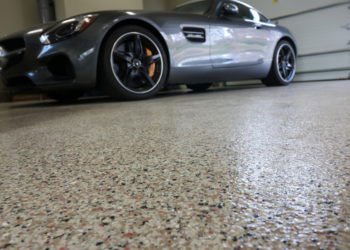 Polyurea Polyaspartic Coatings – This is a 1-day-install coating that is perfect for use in urgent projects. Commercial floor owners prefer this because it dries faster, reducing the time period that business will be closed.
I used Miami Concrete Artisans to do my pool deck area and they were amazing! Not only were they helpful in showing samples, colors etc… they were extremely organized and beyond efficient! I plan on using them in the future for more projects! I would highly recommend this company!
Miami Concrete Artisans were a pleasure to work with. From the beginning of the process (project review, bid estimate, contract) to the final step (sealing my new porch and walkway), the team was courteous, professional, accommodating and thorough. Other than the weather prolonging the process, everything happened in order, as stated and without problems. I love my new walkway/porch and would recommend MCA to everyone!
Frequently Asked Questions
Customized Colors, Patterns & Designs For Concrete Pool Decks, Patios, Driveways & Garage Floors
When it comes to handling projects, we make sure we handle each one professionally and with utmost consideration to the client's needs and wants. It is for them to benefit from, after all. When floor owners approach us about something they are concerned about, we are all ears. Their ideas matter a lot. If any alteration or adjustment needs to be done, we discuss it, study the circumstance, and apply the fix.
We want you, our customer, to be fully informed and decided about decorative concrete. If you have questions, feel free to ask. We'll make sure you get the answers you need. This is not just about being professional. We know that you deserve top-quality customer service.
Get Decorative Concrete that's second to none.
Call (786) 899-2146 today.
We want nothing more than to give you supreme solutions. Decorative concrete resurfacing Miami Beach or refinishing is a small investment that will deliver tremendous benefits. Our team of professionals at Miami Concrete Artisans is among the leading concrete contractors that have the proficiency and background that make them experts in the concrete industry. We take pride in our work and we make sure that each project is handled with utmost attention to detail and efficiency.
Need resurfaced or polished concrete Miami floors? What are you waiting for? Work with the best concrete contractors in Miami FL! The road to impressive concrete surfaces is just a phone call away.